Cortisol Awakening Response Profile (SALIVA) (MALE & FEMALE)
Cortisol Awakening Response
The Cortisol Awakening Response – also called CAR – reveals more detailed clues that help in assessing adrenal hormone/HPA Axis dysfunction. This testing is often useful for cases of PTSD, major depression, chronic fatigue syndrome and other severe stress conditions.
During a normal cortisol awakening response, adrenal hormone levels should increase 50% in the first 30 minutes after waking for the day and then begin to progressively drop through the afternoon and evening. To capture this response, three – rather than one – morning saliva collections are needed to properly chart the diurnal cortisol curve.
Cortisol Awakening Response Sample Collection
6-Tube Collection: Six cortisol collections in 24 hours is the most common method for assessing CAR. Start saliva collection within five minutes of waking for the day, followed by a second sample at 30 minutes, and a third sample at 60 minutes. The rest of the diurnal rhythm can be assessed at the normal time intervals – noon, evening and night (shown below).
4-Tube Collection: Alternately, CAR can be assessed with four cortisol collections in 24 hours. When using this method, collect a sample immediately upon waking, 30 minutes after waking, then at noon or evening, and night.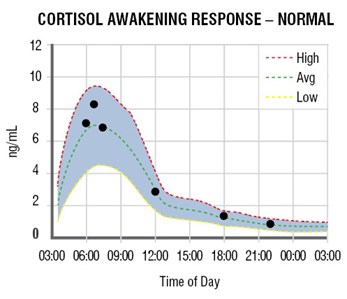 Symptoms associated with imbalance Cortisol are depression, anxiety, exhaustion, lack of strength,tiredness, decreased stress resistance, Irritability, mood swings, nervousness, depressive moods, memory issues, fatigue, stomach ulcers, digestive problems, inflammation, cravings for sweet and salty foods, alcohol cravings, insulin resistance, high blood pressure, weight gain or weight loss, underweight, body aches and pains, low blood pressure and dizziness.
Symptoms of DHEA-S deficiency are experiencing depression, extreme fatigue, muscle weakness, joint pains, dryness in skin and eyes, weak immune system, insulin resistance, sleeping disorders, addison's disease, polycystic ovarian syndrome (PCOS), bad memory, lower stamina, lowered Libido (especially in females), less bones & muscle mass, less hair growth in underarms and inability to lose weight.
This test is;
Safe and easy to use in the comfort of your home or office.

Contains saliva collection kit

Delivers results in 5 days after receipt at the laboratory

Easy to understand the test result and laboratory comments

Free Delivery in the UK and Ireland

Customers are responsible for shipment

 

to laboratory

. Please find more information on shipping page.

No additional cost and tax.
The pack includes:
Test Requisition Form includes Symptom Checklist

Requisition Form to complete including your personal and medical history

Contains collection instructions

Vial(s) for collecting saliva

Instructions on How to Use Saliva Collection Kit
How to Use