---
Cortisol Level Test (Cortisol Awakening Response - CAR) accurately assesses DHEAS & Cortisol hormone levels six times during the day. Cortisol Awakening Response, also called CAR reveals more detailed clues that help assess adrenal hormone/HPA Axis dysfunction.
This hormone testing is often helpful for PTSD, major depression, chronic fatigue syndrome and other severe stress conditions. During a normal cortisol awakening response, adrenal hormone levels should increase 50% in the first 30 minutes after waking for the day and then progressively drop through the afternoon and evening. To capture this response, three – rather than one – morning saliva collections are needed to chart the diurnal cortisol curve properly.
A cortisol test measures the level of cortisol in your saliva. Saliva tests are the most common way of measuring cortisol. If your cortisol levels are too high or too low, it may mean you have a disorder of your adrenal glands These disorders can be serious if not treated. If you are experiencing one or more the the day options below then this test kit is for you.
Cortisol Awakening response sample collection:
6-Tube Collection: Six cortisol collections in 24 hours is the most common method for assessing CAR. Start saliva collection within five minutes of walking for the day, followed by a second sample at 30 minutes and a third sample at 60 minutes. The rest of the diurnal rhythm can be assessed at the normal time intervals – noon, evening and night (shown below).
4-Tube Collection: Alternately, CAR can be assessed with four cortisol collections in 24 hours. When using this method, collect a sample immediately upon waking, 30 minutes after waking, then at noon or evening, and night.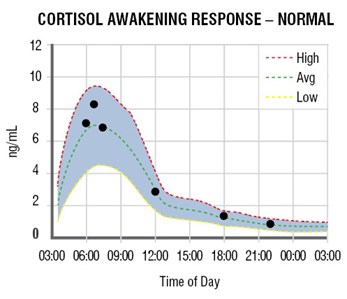 Male low Cortisol deficiency symptoms:
Low blood sugar
Low blood pressure
Chemical sensitivity
Depression
Dizzy spells
Fatigue
Infertile
Stress
Joint pain
Male high Cortisol deficiency symptoms:
Anxious
High blood sugar
Depression
Depression
Rapid ageing
Sugar cravings
Skin thinning
Stress
Waist weight gain
Sleeping difficulty
If you experience one or multiple above symptoms, it might be worth using our Cortisol Awakening Response test to find out if your hormones are balanced. 
Test Result: You will receive your test result 3-5 working days after the laboratory receives your sample. You will see your hormone levels in graphics and numbers on your test result. You will also see laboratory comments by Hormone Specialist PhD Dr in the comments: you will find Dr analysis of your hormone levels and what to do next.
Collect samples from the comfort of your home and post them to our lab.
The test must be used within 12 months after the purchase date.
The test kit includes a laboratory fee: no additional laboratory cost and tax.
Customers are responsible for shipping their samples to the laboratory. 
How and when to Collect your saliva samples:

 

Saliva Testing Instructions
Click to see >> Sample Saliva Test Result Report
How to use: