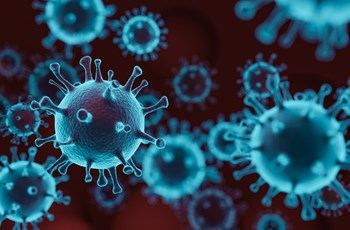 When COVID-19 began to threaten the United States early 2020, ZRT began to work on dried blood spot (DBS) COVID-19 antibody testing. Prior to the molecular (polymerase chain reaction or PCR) testing boom which started mid-2020 which eventually became the most dominate useful test for detecting COVID-19 cases which used nasal/oral samples to do so. Antibody testing took a backseat to molecular testing for most of 2020, however with the fortunate rapid decline in COVID case counts, the introduction of vaccines, antibody testing is making a comeback for research, public health surveillance, and clinical testing throughout 2021.
ZRT's IRB-Approved COVID-19 Study
ZRT Laboratory received Institutional Review Board (IRB) approval to collect health care provider assisted matching serum and finger stick DBS samples in mid-2020. A total of 177 matching samples were used to validate the ZRT DBS COVID-19 IgG S1 Spike and Nucleocapsid Antibody Tests, which is detailed in our December 2020 scientific publication, "Validation of dried blood spot sample modifications to two commercially available COVID-19 IgG antibody immunoassays" (Bioanalysis, 2021). Amendments to ZRT Laboratory's study allowed us to look at a vaccine-induced immune response, which will be the focus of a second manuscript to be peer-reviewed for publication.
New Nucleocapsid Antibody Test Update
ZRT recently updated the DBS COVID-19 IgG Nucleocapsid Antibody Test in early 2021 from the one detailed in our publication to improve test performance and simplify methodology. The combination ZRT DBS COVID-19 IgG S1 Spike and Nucleocapsid Dual Antibody Test is available for research and public health surveillance only. Positive and negative concordance between serum and DBS showed excellent agreement at 100%/99.3% and 100%/100% for the S1 spike and nucleocapsid assays respectively.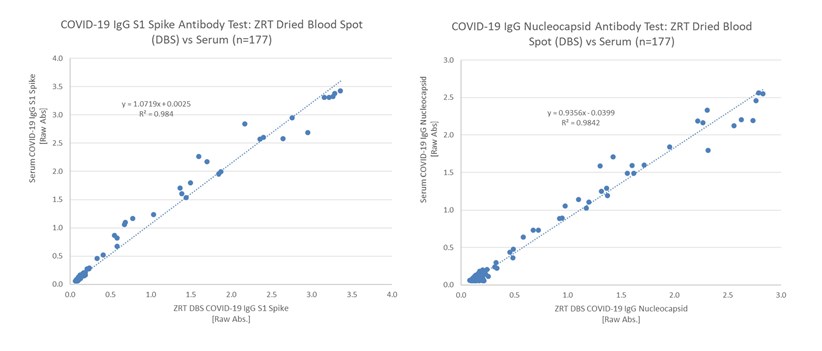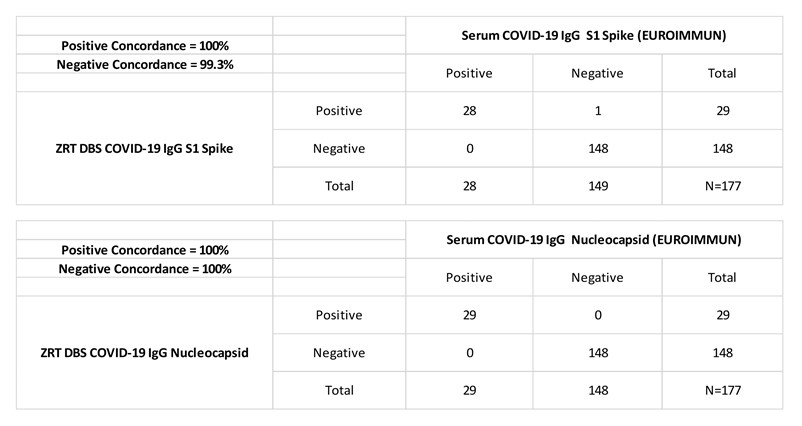 How is COVID-19 Antibody Testing Useful?
COVID-19 IgG antibody testing is increasing in popularity because the majority of vaccines, including the Moderna, Pfizer-BioNTech, Johnson & Johnson, and AstraZeneca produce an anti-SARS-CoV-2 spike immune response that is only detectable using COVID-19 antibody tests that look for antibodies against the SARS-CoV-2 spike protein.
Research and public health surveillance interest for the ZRT DBS COVID-19 IgG S1 Spike and Nucleocapsid Dual Antibody Test has increased significantly as the S1 spike can detect a vaccine immune response while the nucleocapsid assay will only detect a past native COVID-19 infection. This is important for seroprevalence studies to track increases in native COVID-19 infections in a population as vaccines are rolled out.
Below is an example of spike and nucleocapsid antibody levels detected over time post vaccination in an individual with no past native COVID-19 infection. Spike antibody titers (levels) increase while nucleocapsid titers show no increase. A past native COVID-19 infection would likely show and increase in both spike and nucleocapsid antibody titers.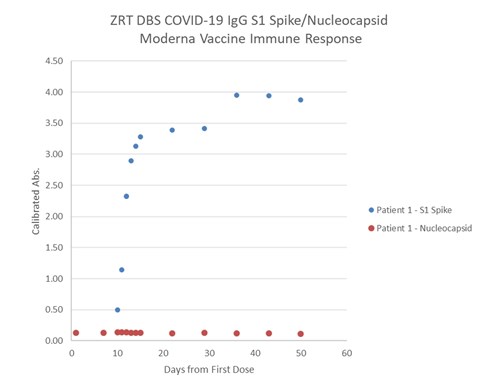 Native Infection vs Vaccine Immune Response: Real-World Example
Recent research at ZRT has shown real-world examples of a population actively being vaccinated and the ability to detect native COVID-19 infections in this group.
Below is an example where study participants may or may not have received a COVID-19 vaccine. Possible native COVID-19 infections have been highlighted with red arrows on the matching spike and nucleocapsid antibody tests since vaccines do not produce an immune response against the SARS-CoV-2 nucleocapsid protein.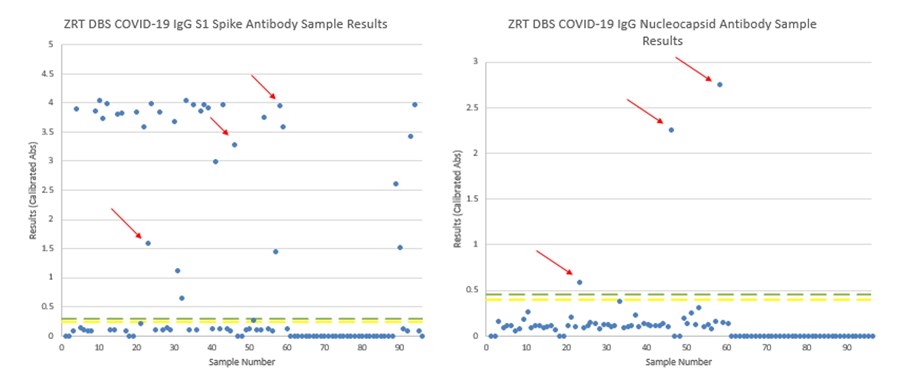 The Future of COVID-19 Antibody Testing
ZRT Laboratory expects COVID-19 antibody testing to outpace molecular (PCR) testing in the future. As vaccinations continue, the amount of protection against a COVID-19 infection may be related to vaccine antibody titers, which diminish over time like a native COVID-19 infection. How this impacts future risk for infection with SARS-CoV2 variants is unknown. So far, vaccines that produce the highest antibody titers (Moderna and Pfizer-BioNTech) have shown the highest efficacy in phase III trials. Moving antibody testing from qualitative (negative, indeterminate, positive) to semi-quantitative (negative, indeterminate, low-positive, mid-positive, high-positive) or quantitative (true antibody titer amount) could help indicate when booster vaccines should be considered, as each individual has a varying immune response to vaccines.
"Long COVID"
The term "long COVID" has been given to people with a past COVID-19 infection who continue to experience symptoms months from infection. This can include people with asymptomatic COVID-19 infections who only express symptoms after the immune system has eliminated the virus. As we learn more about long-term adverse symptoms and conditions associated with COVID-19, referred to as "long COVID," the suite of endocrine testing offered by ZRT Laboratory will help shed light on why some individuals have very slow recovery from COVID-19. Biomarkers such as sex-steroid hormones, cortisol, thyroid hormones, insulin, inflammatory cytokines, etc., that are closely associated with SARS-CoV-2 infections and problems with recovery (long Covid) are tested in finger-prick dried blood spots, dried urine, and saliva samples that can easily be collected at home and sent to ZRT Laboratory for testing.  
It is not clear when the COVID-19 pandemic will end, but it is clear that clinical and research laboratory testing will continue to be a key tool in understanding individual differences in recovery from COVID-19 and how this relates to vaccines, and any future viral variants that may arise.